Geometric accessories were a major fashion trend of the 1990s and are now coming back with full force! Necklaces, rings, bracelets and earrings,all gain more modernity and personality with geometric shapes. Geometric semi-jewels can revolutionize any look, even the most basic looks. Just know how to combine – and that's what we'll talk about in this text.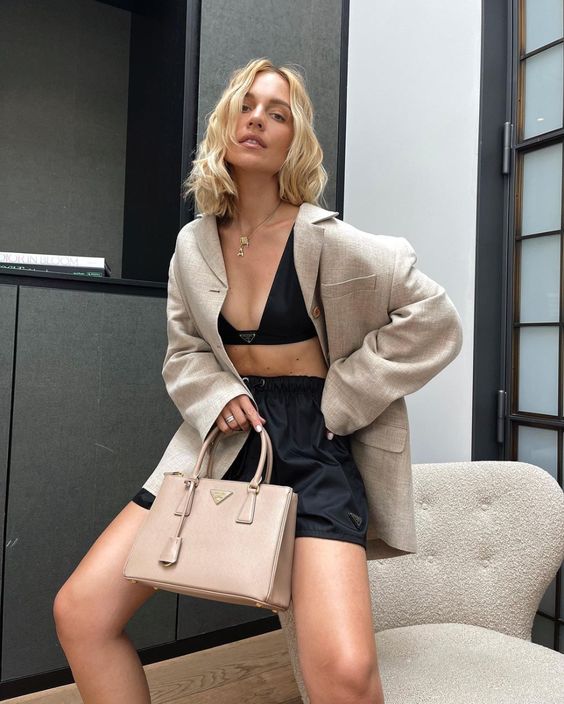 How to combine geometric accessories with each look
– Jeans nothing basic
Jeans, tank top sands or t-shirt in neutral colors are the recipe for a basic and comfortable look. But the basics don't have to be dull, does it? This is a great look to match geometric pieces, worth wearing necklace, bracelets, earrings and rings at the same time, as long as they follow the same style. So you give color and personality to what could just be a basic look.
– Minimalism with personality
Minimalism is also on the rise in fashion, are pieces with neutral tones, few details and classic cuts. Ideal opportunity to value geometric items. In this way, the highlight of the look goes to the accessories that gain all the prominence and give personality to any occasion.
– Modernizing classic looks
How about combining tailoring pieces with geometric semi-jewels? The mix between classic and modern shows confidence and strong personality. With this combination, you can renew the work looks and feel more beautiful even during a running routine and no time for great productions.
How to combine geometric earrings and hairstyles
– Trapped hair
Coques and ponytails are great hairstyles to enhance the face and highlight geometric earrings. This is a great option for several moments, such as parties, very hot days and also those days when the hair is not in a good mood.
– Semi-trapped hair
In this case, the hair can get loose at the back and fastened so that it shows well the face and ears. Thus, geometric earrings gain prominence and value any look.
– Short hair
The short haircuts are quite versed and go well with several models of geometric earrings. It is worth unleashing creativity and choosing your favorite models without fear of error.
What to avoid
– Style mix
Geometric pieces give an air of modernity, so they don't look cool if combined with romantic-style clothes such as lace and embroidery.
– Less is more
Avoid using geometric earrings and necklaces at the same time. Choose only one piece to highlight in the look. Other accessories and clothing must be chosen according to this main piece. Thus, you avoid heavy and exaggerated looks, while still dressing with personality and modernity, reminiscing about a classic from the 1990s that comes back more current than ever for women's wardrobes.
– Prints
Mixing geometric pieces with printed clothing can create a heavy look, with too much information where nothing stands out. An alternative is to choose colors and geometric patterns that combine and form a harmonic look.