Where to find your jewelry cheaper?
If you are wondering or find your jewelry cheaper,the answer lies in two words: jewelry wholesaler. We are manufacturers of gold-plated, silver, fantasy jewelry and we give you access to a catalog constantly enriched with new models. For us your satisfaction is a priority, so we make sure to offer you the best possible quality/price ratio.
A cheaper jewel of excellent quality
With us the jewelry is of excellent quality and guaranteed against any defect, order your jewelry quickly and receive it as soon as possible, we ship the same day of receipt of your payment. You can only be satisfied with your purchases.
your wholesaler supplier of jewelry, watches, handbags and fashion accessories.
Our opinion on Aventino watches. What about quality?
For whom is the Aventino watch?
Our opinion: The Aventino watch is an atypical watch. In a multicolored striped style, like the T-shirts of the same brand, the Aventino watch is intended for a wide audience. It is mainly dedicated to women. But there are also some for men and children.
The watch carries a note of freshness, quite childish, but particular. The elegant design is associated with multiple colors, typical of the brand. This, to break the classic side and create a playful side. It's not really a high end watch. But collectors and watch lovers alike can buy it. The Aventino can be worn everywhere and on all occasions. It can therefore serve as a flagship accessory during outings and even for dressy evenings.
Is the Aventino a mechanical or quartz?
A Aventino brand watch is usually analog type quartz. It is rarely mechanical and even less electronic. The battery should be changed every two years, but in short, it should last between 5 to 7 years. Note that if the watch works with a mechanical, you must check the winding mode. It can be automatic or manual.
What price to pay for a watch from the Aventino watch brand.
Not all Aventino watches are equal in value, as they do not all have the same characteristics. The price is often between 160$ to 253$ USD . As an example: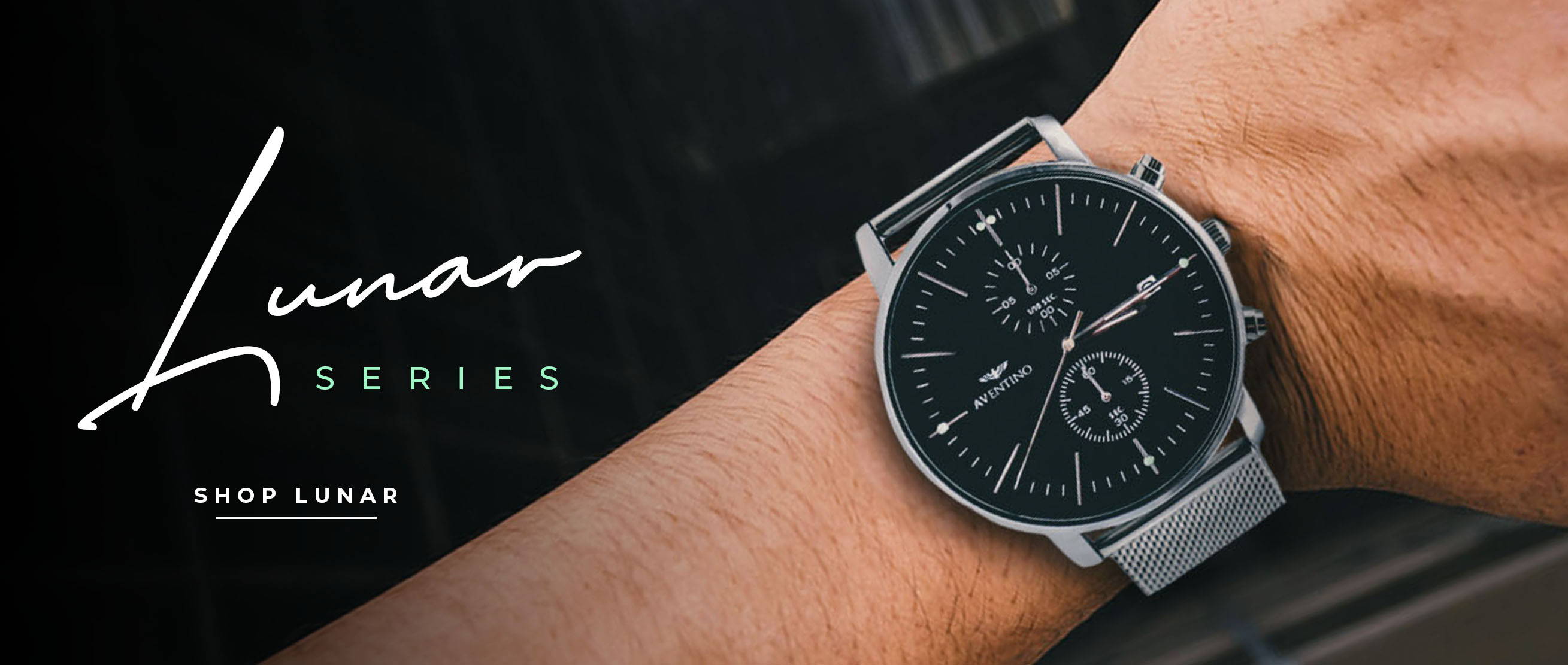 Where to buy these Aventino watches?
We especially recommend direct buy from official website where Indischen® offering 15%-40% discount. You will see promotional offers in real time, and have several models to choose from. The question of warranty is also important. Amazon replaces watches that do not meet certain quality criteria. They can even be returned and the price is refunded.
Aventino review & test
We take the example of the LM51 quartz watch for women. It costs between 159 to 253 usd depending on the color of the model. The white one is obviously very beautiful. The metal dial blends with the pin buckle. The leather brac adds hold.
This watch has the merit of being pretty in addition to being practical. The golden and white color can match with any outfit: city, evening or work dress. The finish is well presented. Details like the stripes on the brac don't bother. On the contrary, they go well with the ensemble.
Aventino general quality review
This LM51 watch proves the prowess of Aventino. He did a professional job, staying true to his signature. If we look at the price, we can say that it is quite luxurious. But it is not compared to watches costing several hundred euros. Its color also adds value. The price is therefore correct, and the trademark of Aventino is still attractive. It's an affordable alternative between expensive watches and lower end products.
Is it really worth that price? Can we get better for less
The watch costs a little less than 60 euros. This is a fair price since the item is branded and the quality requirement is met. Nevertheless, it remains a mid-range product. Its colors do not necessarily please. They are also not suitable for social evenings.
Other models seem to meet the expected luxury criteria. They don't wear too many colors and can blend into a lavish outfit without a problem. You can, for example, choose a model in black or red. The LM48 model is also a good alternative so as not to exceed the budget.
Conclusion on "Aventino". Our final opinion
Aventino is, in our opinion, is a good brand. He has stood out with her stripes and pretty colors through multiple fashion items. With the watch, it goes beyond its own limits, because the product is as stylish as it is practical. It is well appointed and the quality is certified.